Custom Search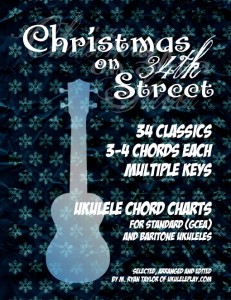 34 Christmas Classics arranged for Ukulele (GCEA) and Baritone Ukulele by M. Ryan Taylor of UkulelePlay.com, each with only 3-4 chords each and presented in multiple keys to allow you to choose which is best for your vocal range and playing ability (also allows for easy modulating between verses).
Selected and arranged with ukulele clubs, jamming groups and classrooms in mind, where players may range from beginners to advanced players. Most of the songs have been placed in keys that allow a standard ukulele strung with traditional / re-entrant / high-g GCEA tuning to pluck the melody, allowing groups to create simple duets between pickers and strummers on the fly.
Songs include:
Away in a Manger
Boars Head Carol
Bring a Torch, Jeannette Isabella
Christmas is Coming!
Coventry Carol
Deck the Hall
Ding Dong! Merrily on High!
First Noel, The
Friendly Beasts
Go Tell it On the Mountain
Good Christian Men Rejoice
Good King Wenceslaus
Here We Come A-Wassailing
Holly and the Ivy, The
In the Bleak the Midwinter
Infant Holy, Infant Lowly
Jingle Bells - free sample!
Jolly Old St. Nicholas
Joy to the World
March of the Three Kings, The
Masters in this Hall
O Come, Little Children
Once in Royal Davids City
Rocking Carol
Shepherd! Shake Off Your Drowsy Sleep
Silent Night
Sing We Now of Christmas
Sussex Carol
Twelve Days of Christmas, The
Up on the Housetop
Wassail, Wassail, All Over the Town!
We Wish You a Merry Christmas
Wexford Carol, The
What Child is This?
Want more simple, but awesome Christmas songs to add to your repertoire? Check out The Two Chord Christmas Songbook.
Custom Search
Ode To A Fruitcake : a Christmas Song
Medium Voice and Piano
Words & Music by M Ryan Taylor
Pure holiday fun! "The irony here is that even though I wrote this seasonal song all in good fun, I love fruitcake. I've had variations I'm not crazy about, so I understand the jokes, but our family's recipe, which served as the basis for many of the ingredients listed in the song, is absolutely sensational. Christmas wouldn't be the same without it." ~ M Ryan Taylor
Ode to a Fruitcake
by M Ryan Taylor
Fruitcake! Fruitcake!
Oh, what a glorious fruitcake!
Nothing quite says, "Merry Christmas, Good Cheer!,"
like a fruitcake.
With raisins, green pineapple, candied orange peel,
an applesauce batter to make a good seal,
the walnuts and hazelnuts, pecans and cherries,
cinnamon, nutmeg and cloves 'mid dried berries!
Though many may dispute it's reputation,
the fruitcake is a holiday sensation!
And, though the thought might fill a few with dread,
I proudly declare that the fruitcake is the ultimate queen of quickbread!
Fruitcake! Fruitcake!
Oh, what a marvelous, glorious, beauteous fruitcake!
"Merry Christmas! Good Cheer! Happy New Year!"